برگ هایی از تاريخ ايران

گفتار تاريخی محمدرضا شاه بزرگ بمناسبت 21 آذر 1341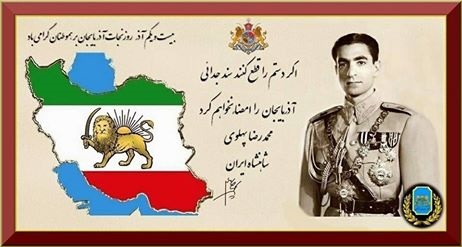 بيست و يک آذر روز نجات آذربايجان از اشغال نيروهای بيگانه است. پس از هجوم سه کشور صاحب حق وتو در سازمان ملل بدون آگاهی دولت ايران و اشغال سرزمينمان از هوا و زمين، اشغالگران روس که از پسمانده های خود حکومت دموکرات آذربايجان و کردستان را تشکيل داده بودند، تنها با همت ودرايت و صبر و شکيبایی شاهنشاه و کمک ارتش است که ايران از خطر تجزيه نجات پيدا میکند. نمونه بی وفایی کرد ها در خواستی که داشته اند تا ايران را شقه کنند وبرخی عوامل دست نشانده در آذربايجان که نه تنها به روسها بلکه به انگليسی ها وابسته بودند درآن دوران نمود میکند. همين کرد ها در ندانم کاری های امروز که بيشترشان توده ای ووابستگان بيگانه هستند از يزيدی ها و کوبانی های کرد پشتيبانی می کنند و خاطره آن روزها را از ياد برده اند چطور کشور در حال تجزيه را شاه و ارتش شاهنشاهی و مردم ميهن پرست از جمله آذربايجانی ها نجات میدهند.

در آن زمان آقای حسين علا نماينده ايران در سازمان ملل که تازه وجوان است، عليه يک کشور صاحب حق وتو، روسيه شوروی، در حاليکه استالين در راس کشور شوروی در کنفرانس 1943 تهران هم شرکت کرده بود، اقامه دعوا می کند و برنده هم می شود. البته آمريکا با سياستی که اتخاذ کرده بود نمی خواست ايران ديگر زير نفوذ استعماری روسيه شوروی و انگلستان باشد. روزولت اين تصميم را پيش از رفتن به کنفرانس تهران گرفته بود. در فيلمی که در زير خواهيد ديد عباس ميلانی به نکاتی دررابطه با شاهنشاه که به محسنات و درايت ها و شکيبایی شاهنشاه اشاره دارد ولی از آنجا که نيش عقرب نه از ره کين است اقتضای طبيعتش اين است باز هم میخواهد شاهنشاه را ضعيف نشان بدهد. ولی همان شاهی است که گرچه سران سه کشور بدون همآهنگی با دولت ايران وارد خاک ايران شده اند، پدرش را از کشور بيرون رانده است، خودش در آغاز جوانی است، و سران سه کشور اشغالگر بدون دعوت از شاهنشاه در داخل سفارت روس کنفرانس برگزار کرده است شکيبایی بکار میبرد و فوری از کرد ها يا آذربايجانی های جدایی طلب پشتيبانی نمی کند بلکه در واقعه آذربايجان میگويد:

Please be patient till video Appears, then click playing
فايل ها بزرگ است شکيبا باشيد تا وسيله بکار اندازی آن آغاز شود سپس آنرا کليک کنید

Courtesy of BBC- with Thanks
---

Courtesy of BBC- with Thanks

To view these videos you need to download and install proper video player, consult your type of computer

---
Time line:
---
History of Iran starts 2500 years before Christ .

---
1160 years later Muslims occupied land of nobles, for over 1400 Iranians fought to deport the occupiers.

---
33 years ago they re-occupied our homeland. The Renaissance is on its way..!

---
Persian Kings
---
Cyrus 559-530 BC -29 years
Cambyses 530 BC -522 8 years
Darius 521-486 BC -35years
Xerxes 486-465 BC -21 years
It is up to the people of Iran, to form powerful resistance preventing dictatorship
We believe that as long as there are people living in Iran, it is our responsibility to resist the injustice.

---
بر اين باور هستيم تا زمانی که در ايران زندگی هست، مسئوليت ما است تا در مقابل نا برابری ها مقاومت کنيم
We pledge alliance, with those who voice against religious regimes, terror, and welcome secularism, separation of religion and the state, we seek freedom and peace!