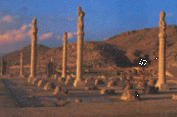 Food For Thought ..
متن کامل کتابهای هوشنگ معین زاده
هم میهنان گرامی می توانید متن کامل کتابهای زیر را از این آدرس ها ذخیره کنید.
بشارت

آیا خدامرده است ؟

کمدی خدایان
آنسوی سراب
خیام و آن دروغ دلاویز
---
به سر جز وفاداری وعهد نیست زجانش به جز عشق میهن بریست

با سپاس از:

کدبان هوشنگ معين زاده برای انتشار اين کتاب ها در اينترنت. برای بازديد تارنمای ايشان اينجا کليک کنيد.
It is up to the people of Iran, to form powerful resistance preventing dictatorship
We believe that as long as there are people living in Iran, it is our responsibility to resist the injustice.
We pledge alliance, with those who voice against religious regimes, terror, and welcome secularism, separation of religion and the state, we seek freedom and peace!